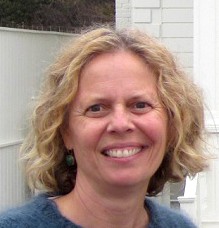 Christina Palmer
Professor-in-Residence
cpalmer@mednet.ucla.edu
Life Sciences Building 3313
Ph.D.,  Industrial Engineering (emphasis on Decision Sciences), University of Wisconsin-Madison
M.S.,  Genetic Counseling,  Sarah Lawrence College
B.A.,  Biology and Spanish, Indiana University
Christina Palmer is a genetic counselor who has been a UCLA faculty member since she joined the Center for Neurobehavioral Genetics and Department of Psychiatry & Biobehavioral Sciences in 1999. Dr. Palmer holds joint appointments in the Department of Human Genetics and in the UCLA Institute for Society and Genetics and is also a faculty member of the UCLA Intercampus Medical Genetics Training Program. She is certified by the American Board of Genetic Counseling as a Genetic Counselor and specializes in genetic counseling for deafness, and for psychiatric conditions. She is currently the Editor-in-Chief for the Journal of Genetic Counseling.
Dr. Palmer has written extensively on topics related to genetics, genetic counseling, genetic testing, and statistical genetics methods, including publications that specifically address genetic counseling, genetic testing, genetic evaluation, deafness, and health outcomes. She has been the PI of extramurally-funded projects since 1995, including two NSF awards to conduct research on risk perception; a multi-institutional, multidisciplinary NIDCD-funded project assessing the role of Connexin 26 testing as an adjunct to newborn hearing screening; a multi-institutional, multidisciplinary NHGRI-funded project assessing the impact of genetic testing on deaf adults and the deaf community; a multi-institutional, multidisciplinary NCI-funded project to increase access to genetic information to the Deaf community through development of materials in American Sign Language; and most recently, NHGRI awards to establish UCLA as a clinical site within the nationally organized Undiagnosed Disease Network to use next generation sequencing technologies to identify etiology of rare and unknown disorders.
She is actively involved in undergraduate, graduate, and medical education, and involved in the establishment of the UCLA Master of Science in Genetic Counseling Program. Dr. Palmer has received several awards including the 2015-16 UCLA Life Sciences Excellence Award for Promoting Diversity and Inclusion for her efforts establishing the UCLA College undergraduate diversity requirement; the 2015 Strategic Leader Award of the National Society of Genetic Counselors; and the 2001 Jane Engelberg Memorial Fellowship from the National Society of Genetic Counselors for her work on methods for evaluating genetic counseling.