SOCGEN(108, 191R/S, &199 Projects): HBS Capstone Projects
Students in the Human Biology and Society major at UCLA complete an original research project at the intersection of biology and society in just 10 weeks. The website, https://thehbsway.rocks/ , highlights the work of over 200 of these students. In 2020 and 2021, students have completed these projects alongside the challenges of COVID19, remote schooling, protests against racial justice, challenges to democracy, and much more.

---
SOCGEN180: The Science and Politics of Vaccination
Instructor: Chien-Ling Liu Zeleny, PhD
This collection of podcasts is a collaborative work of the students in Soc Gen 180: Science and Politics of Vaccination during the winter quarter of 2021. This course takes vaccination as the key component within public health across boundaries of geographical spaces, social groups, and disciplines since the 19th century. It locates scientific knowledge and practices of vaccination in relation to political milestones, such as scientific imperialism, colonial nationalism, wartime politics, decolonization, the Cold War, the rise of economic neo-liberalism, medical racism, and recent geo-political shifts. The core themes include immunization as an element of civic engagement or/and state formation, scientific and political rhetoric in both vaccination and anti-vaccination campaigns, institutionalization of vaccine testing, the making of vaccination policies, global prospects of vaccination in One Medicine, as well as challenges in disparities of immunization.

Anti-COVID Vaccination through a Historical Lens
By Jamie Hsu, Madeleine Babb, Miranda Le, Niki Ehsani, Riya Shah, and Sydney Barnett
Campaigns against the Covid-19 vaccine are often thought of as a purely modern phenomenon, but in fact, these beliefs are shaped by years of political and social influences. Join Miranda, Jamie, Madeleine, Niki, Sydney, and Riya as they delve into the history of anti-vaccination campaigns and how they connect to common present-day beliefs. If common concerns about the Covid-19 vaccine—like the speed of vaccination development, government conspiracy theories, or medical racism—ring any alarms for you, then this is the show for you!
---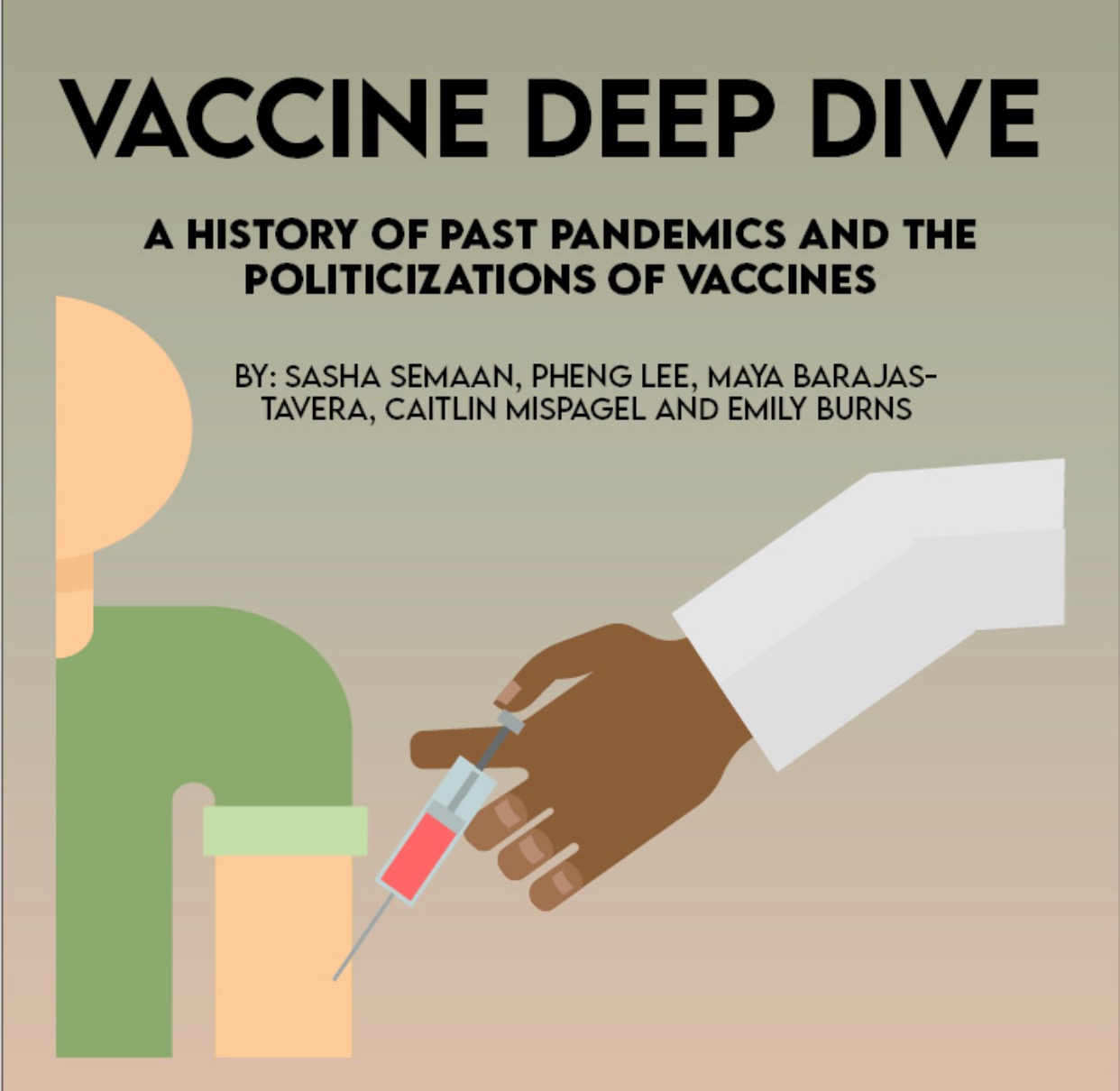 Vaccine Deep Dive: A History of Past Pandemics and the Politicizations of Vaccines
By Caitlin Mispagel, Emily Burns, Maya Barajas-Tavera, Pheng Lee, and Sasha Semaan
Vaccine Deep Dive, a podcast discussing how the United States' actions toward developing and distributing vaccinations has played a role in the Anti-Vaccination Movement. We contrast the events of past epidemics and transition into the 2020 election and the effects it has had on the COVID-19 pandemic and attitudes toward vaccinating. We tie these ideas together to analyze arguments from anti-vaxxers and how health care inequities can be feeding this movement.
---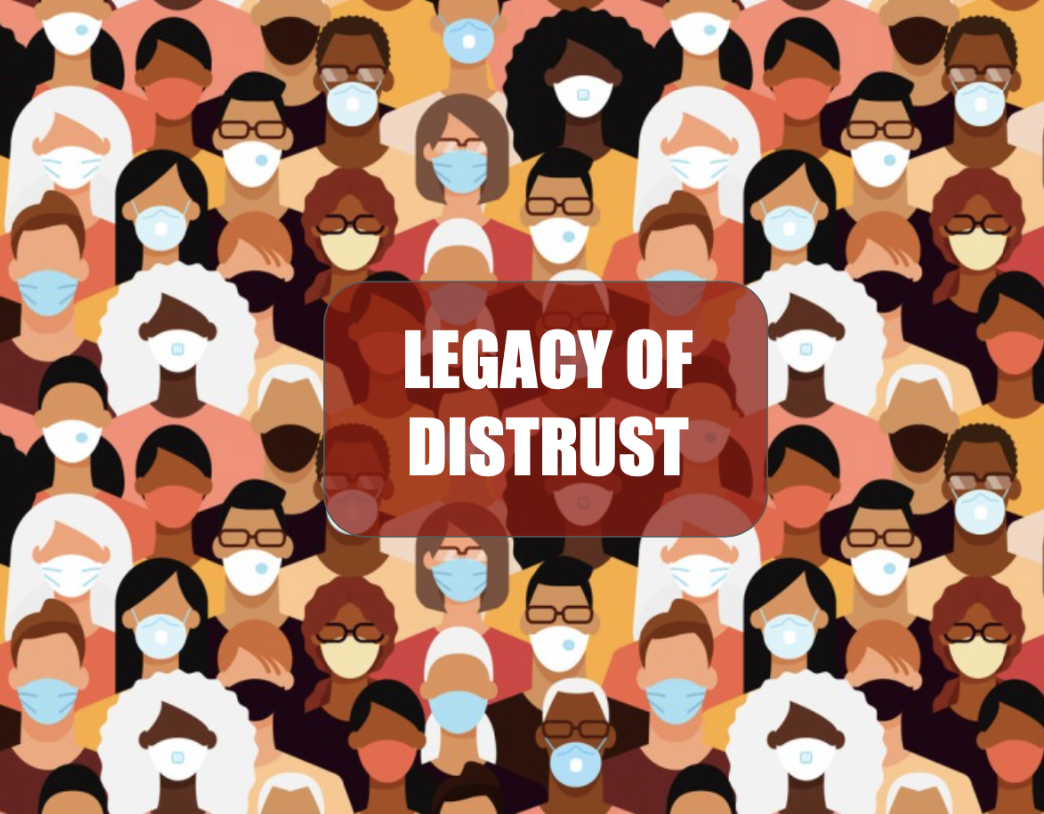 Legacy of Distrust: Medical Apartheid in Relation to Covid-19 Vaccine Development and Distribution
By Anisha Patil, Luis Torres, Nicholas Carpo, Hamza Mojadidi, Osvaldo Sanchex-Fernandez, and Ruby Lake
Legacy of Distrust is a podcast discussing medical racism in relation to the Covid-19 vaccine development, distribution, and public perception. We provide a brief history of medical apartheid in the US, and Dr. Amara Siva gives perspectives on vaccine distribution and perception in vulnerable communities such as Indigenous populations. Later, we describe vaccination distribution and distrust in relation to incarcerated populations. Listeners will finish this podcast with a better understanding of how Covid-19 has impacted various marginalized communities from issues of exposure and treatment to issues of vaccine access and distrust.
---
Vaccination University: The science and conversations behind building herd immunity
By Neha Joshi, Sally Jin, Angelica Garcia, Shivesh Shourya, and Yoshiko Kohlwes
The debate surrounding the COVID-19 vaccine has highlighted the need to restructure how we facilitate conversation surrounding vaccination as there is little room for questions, and people feel obligated to pick a side. However, this podcast seeks to change that as we want to establish a knowledge base of the science behind vaccination as well as learn to have respectful conversations. We encourage all listeners, but our message is aimed at college students making healthcare decisions for the first time!
---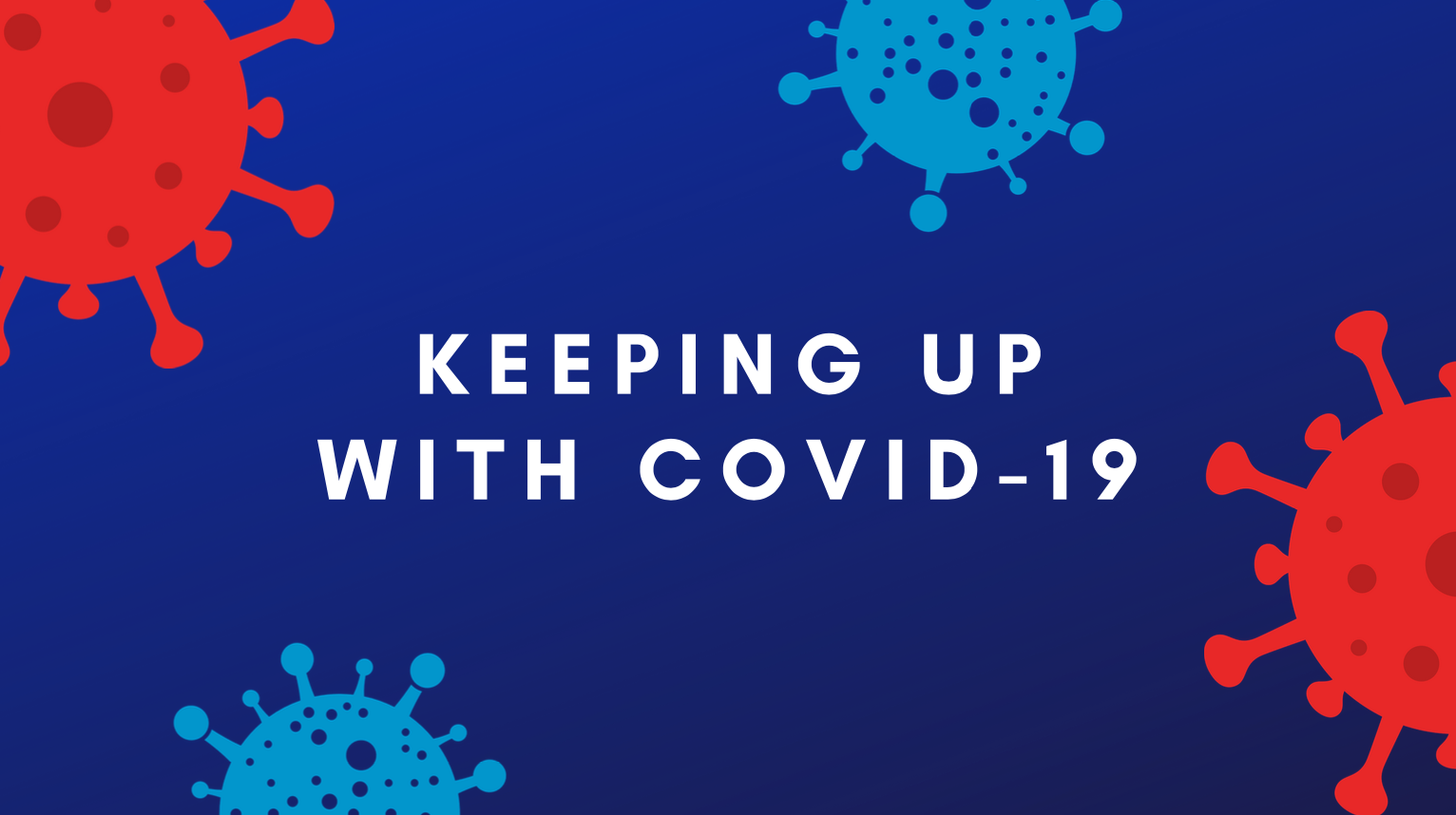 Keeping Up With Covid-19: Vaccine Edition
By Arman Soltanzadeh, Caitlin Ciardelli, Amira Patrawala, and Talisa Rodarte
Keeping Up with COVID-19: Vaccine Edition is your one-stop shop for COVID vaccine information and education. Take a deep dive into the biology and mechanics of vaccine production. And, help us sift through the copious amount of news and myths surrounding the virus and vaccine from a college perspective.
---
Hearing our Healthcare Workers: Perspectives on the COVID-19 Pandemic and Vaccinations
By Callan Howard, Alondra Mendez-Gavilan, and Diana Jimenez-Briseno
An interview with Helen Mejia, a UCLA nursing student, and Dr. Paul Pottinger, head of infectious disease at University of Washington, about their experiences as health care workers during the pandemic and how they've personally dealt with COVID vaccine hesitancy, medical misinformation, and health care disparities.
---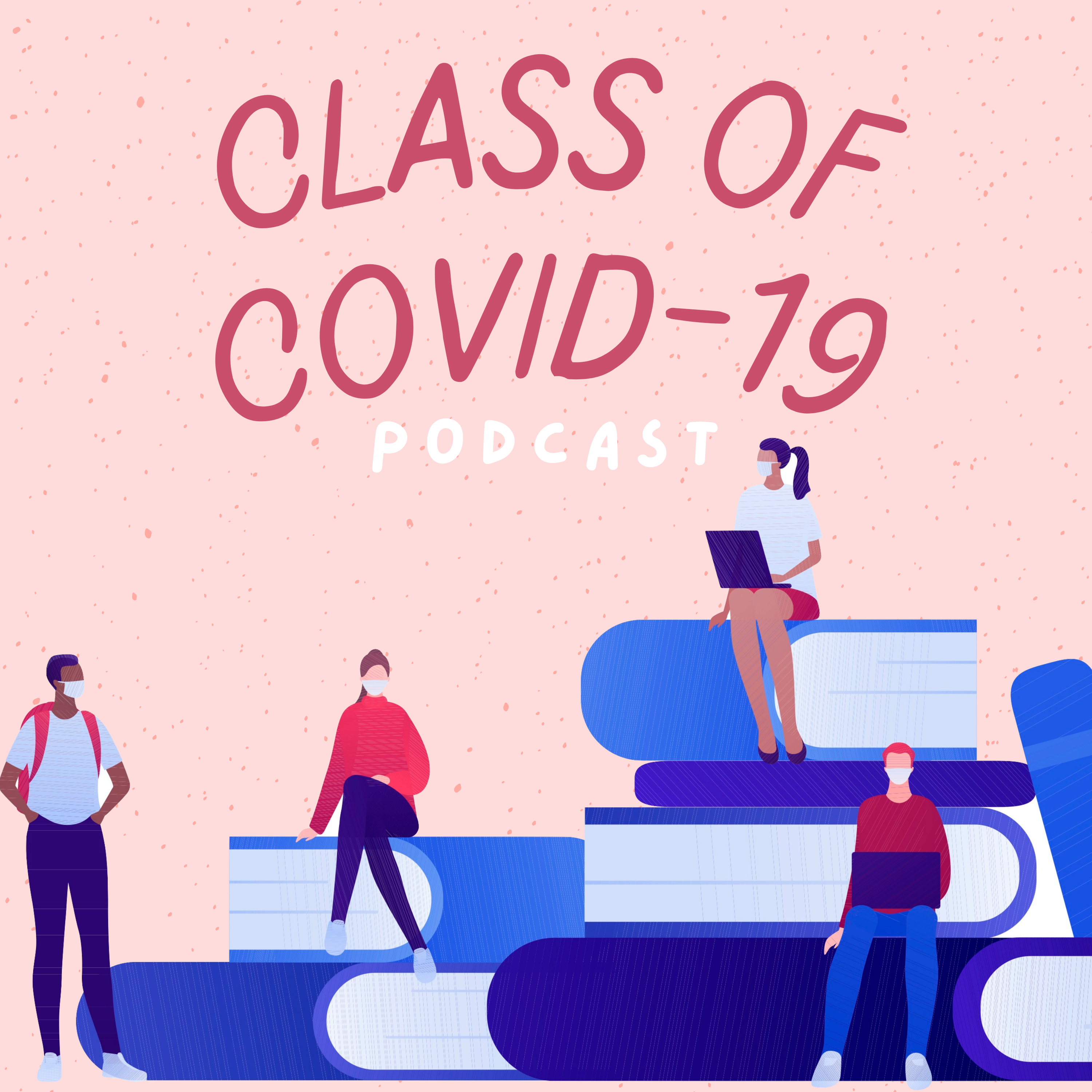 Class of COVID-19
By Emma Miltenberger, Lexie Baughman, Megan Blatt, Nicole Rios, and Shanzey Syed
The COVID-19 pandemic has often been coined as "the great equalizer," emphasizing that no one was "safe" from COVID-19, even those who have privilege and power. While everyone has undoubtedly been impacted by this pandemic in one way or another, our podcast, entitled "Class of COVID-19," provides some intersectional insight on how this pandemic is actually not the equalizer it is made out to be. Through coverage of medical discrimination in a historical context and its manifestation in terms of COVID-19 and vaccine distribution, our podcast will demonstrate how the healthcare system consistently underrepresents and underserves marginalized communities.
---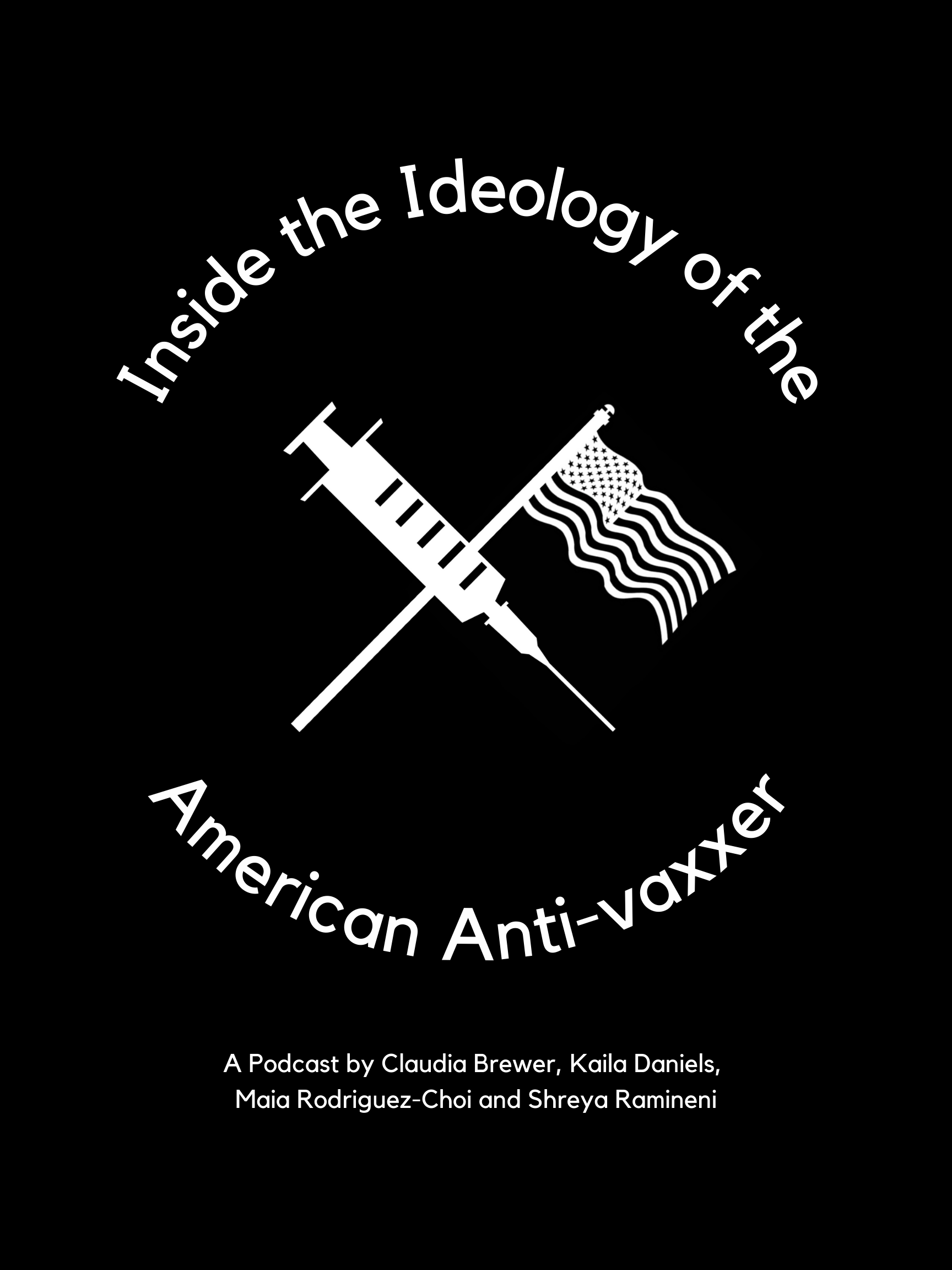 Inside the Ideology of the American Antivaxxer
By Claudia Brewer, Kaila Daniels, Maia Rodriguez-Choi, and Shreya Ramineni
In the era of COVID-19, vaccination is on our radars more than ever, and it will be a critical factor in restoring normal society as we know it. The urgency of COVID-19 vaccination efforts presents a perfect time to discuss what drives the body of people determined to thwart these efforts: anti-vaxxers. Join us on Inside the Ideology of the American Anti-vaxxer as we investigate the political and social authority figures of this movement and even infiltrate a Facebook group to find out just what drives anti-vaxxers in America.
---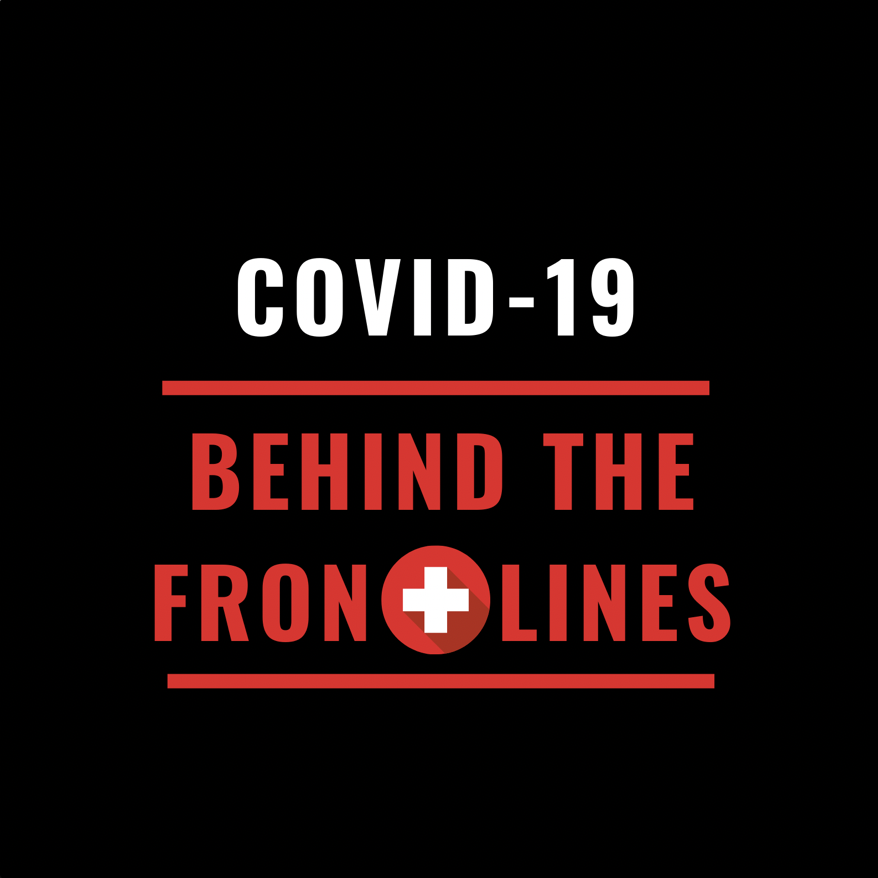 COVID: Behind the Frontlines
By Alexa Henrie, Amy Lefley, Brian Toh, Hanna Maillard, Michael Viggiano
In this podcast we explore the different perspectives surrounding the COVID-19 vaccine, and how communication between researchers and lay people have been historically framed. We interview a university student who is hesitant to take the vaccine as well as two medical professionals who have been on the frontlines of the pandemic. Afterwards, we discuss the contrast in these perspectives and how we can potentially bridge the communication gap between the public and medical field.
---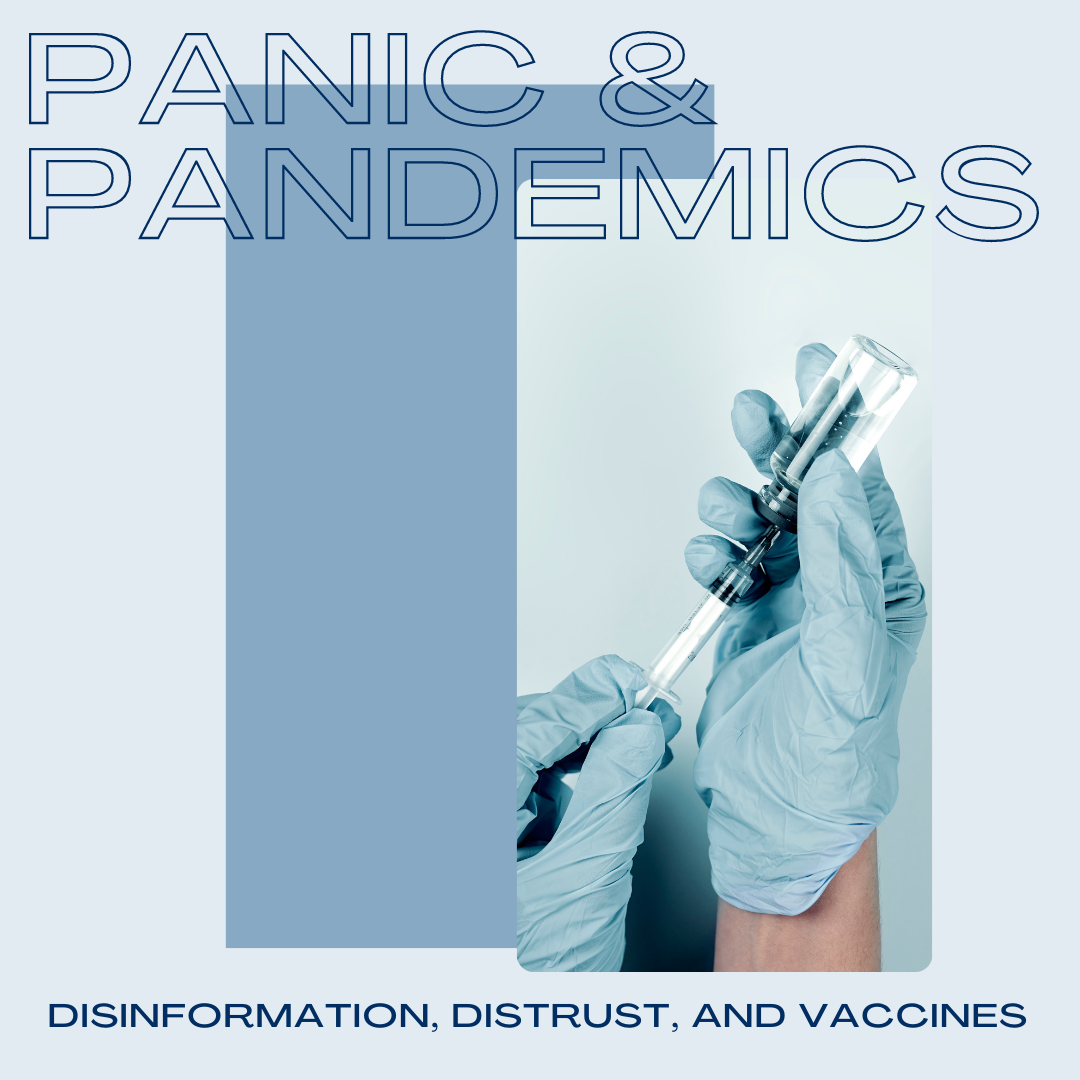 Panic and Pandemics: Disinformation, Distrust, and Vaccines
By Grace Randall, Lindsey Snetsinger, Lilia Diaz, Oscar de la Rosa, Zachary Johnson, and Sarah Maraach
This podcast attempts to look at distrust and disinformation in society through the lens of the innate skepticism in humanity. In short, our podcast touches on many elements to show how the skepticism towards the Covid-19 vaccine is not unfounded. If we want a healthy cohesive society (that trusts science and its findings) it is imperative that we try to inform those who are cynical towards the institutions of past indiscretions. The very same institutions that are trying to help society today.
---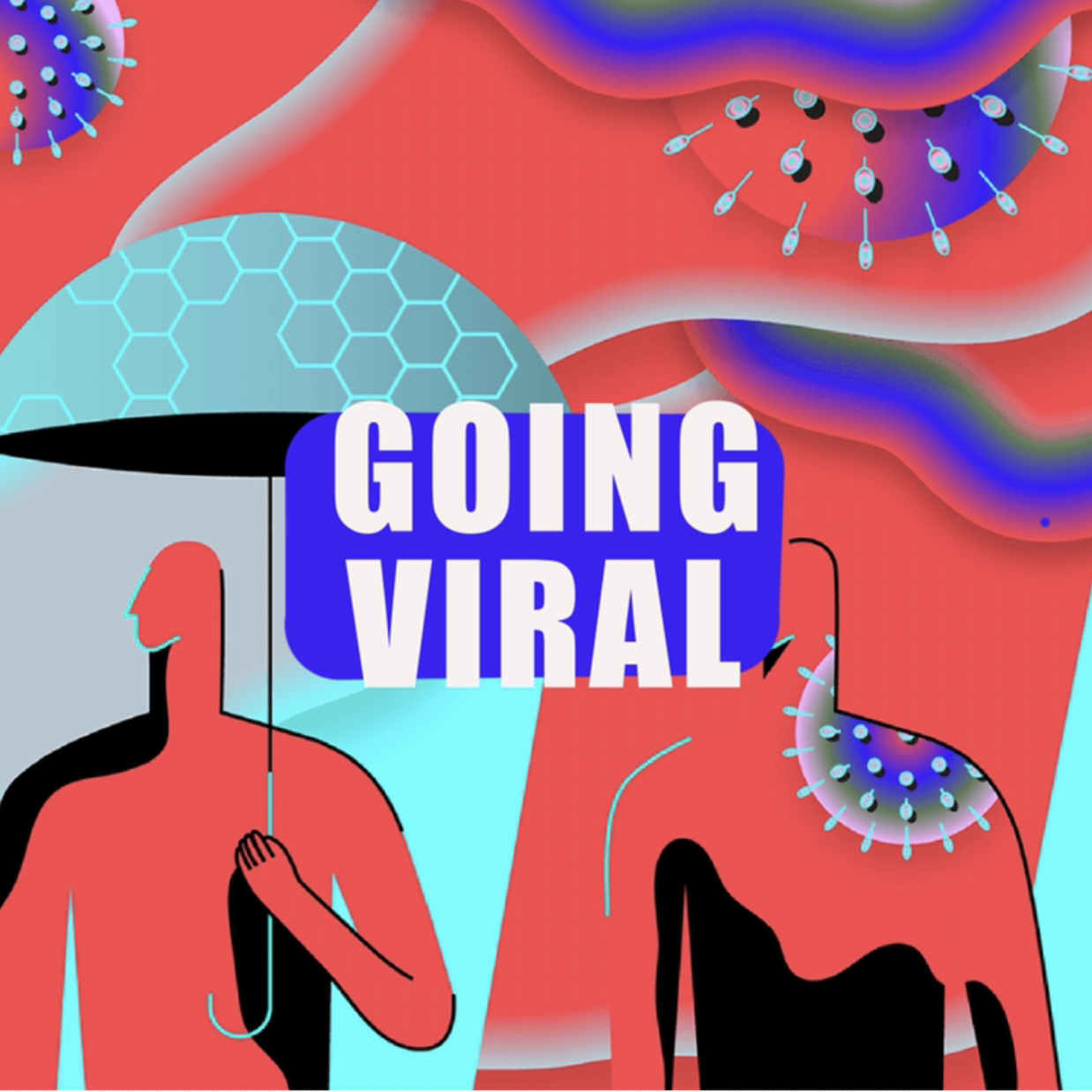 Going Viral: Thoughts on Equitable Covid-19 Vaccine Distribution
By Alexandra Nechaev, Devika Shenoy, Saloni Kothari, Sarah Isen, and Jared Pagal
The podcast "series" title is Going Viral, based on the idea that our podcast is dedicated to talking about infectious diseases. In this episode, we echo topics that we've learned throughout the class by addressing equitable COVID-19 vaccine distribution in the Bay Area. As San Francisco is a culturally and racially diverse place, our guest speaker can speak to the ways the vaccine is being distributed among city employees.
---