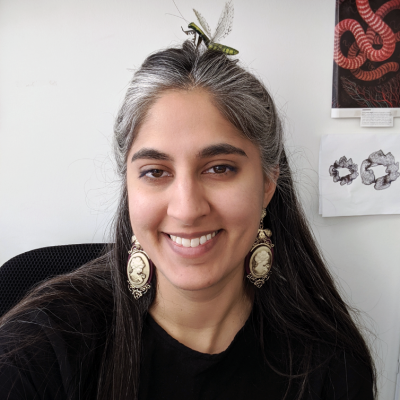 Amisha Gadani
Senior Artist
agadani@ucla.edu
Life Sciences Building 3304
www.amishagadani.com

Amisha Gadani is an artist, educator and illustrator who has worked to visually support the research of ISG faculty since 2011. Using both traditional and digital media, she develops conference posters; slides; illustrations for grants, papers and books; research figures; outreach; journal and book covers; and more. (Gallery)
Amisha brings to ISG a decade of experience in visual communication at the intersection of science and art: from working as an educator, illustrator, and assistant exhibit builder at the Exploratorium Museum in SF; to working as an artist researcher at the STUDIO for Creative Inquiry in Pittsburgh; and working as an Education Specialist at Helix (a one year experimental science center by Exploratorium) where she developed and presented educational programs and animal dissections.
In addition to working at ISG, Amisha teaches an Animal Anatomy drawing course at Art Center College of Design in Pasadena and maintains a personal art practice working with video, sculpture, printmaking, fabric, electronics, watercolor, and gouache.  Stemming from her interests in animal morphology and evolution, her artwork ranges from underwater videos and unsettling beak-less bird paintings to her on-going series of interactive animal-inspired defensive dresses that can, for example, inflate like a blowfish when the wearer is intimidated.  Her artwork has shown in Los Angeles (Monte Vista Projects), San Francisco (Exploratorium Museum), Austin (Art.Science.Gallery), Boston (Gingko Bioworks), Seattle (Wing Luke Museum), Pittsburgh (Andy Warhol Museum), New York City (Wave Hill) and Tokyo (Transit Festival); has been featured in The New York Times, Fast Company, and Scientific American; and has been published in LIMN magazine, Method Quarterly, the book "Future Fashion: Innovative Materials and Technology" by Barcelona-based maomao publications, and the book "Critical Theory and Interaction Design" by J. Bardzell, S. Bardzell, and M. Blythe (The MIT Press).
Amisha earned a B.F.A in Fine Arts with honors from Carnegie Mellon University in 2007.
For information on how to work with Amisha, see Research Illustration.
For those with an interest in illustration, check out the  Reference Slides I put together about the design, and development of research illustrations.