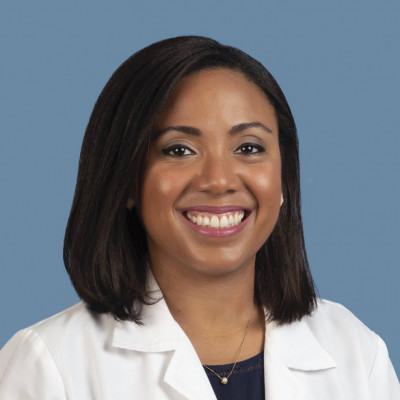 Adys Mendizabal
Assistant Professor
AMendizabal@mednet.ucla.edu
Adys Mendizabal, MD, MS, is an assistant professor in the Institute of Society and Genetics and the Department of Neurology at the University of California, Los Angeles (UCLA). She earned a Bachelor of Science in Psychobiology from the University of Miami and completed medical school at the Lewis Katz School of Medicine at Temple University. While in medical school, she also earned a Master of Arts in Urban Bioethics, focusing on social determinants of health in urban communities. She completed her neurology residency at the Hospital of the University of Pennsylvania. As a neurology resident, she developed a health equities curriculum for neurology residents in addition to research and community engagement efforts. She recently completed a movement disorders fellowship at UCLA and a Master of Science in Health Policy and Management from the Fielding School of Public Health.
Her research focuses on health services in neurology. Health services is a field that studies how patients access care, assess healthcare outcomes, and use this information to shape healthcare policy. One focus of health services research is evaluating the role of social determinants of health in a person's ability to access healthcare and how they could lead to differences in health outcomes. Dr. Mendizabal's current projects look at racial and ethnic disparities in Huntington's Disease (HD), a rare progressive neurogenetic condition. She's also developing projects improving sociodemographic data collection in HD while also drafting HD-specific quality metrics. She hopes to use these methods to enhance the study of health services in other rare genetic conditions. In addition to research on Huntington's Disease, her work also looks at the relationship between Adverse Childhood Experiences (ACEs) and healthcare outcomes in adults with neurological diseases.
In addition to her research work, she continues to see patients with Huntington's Disease and other movement disorders at UCLA while co-leading UCLA's neurology residency educational track on equity, diversity, inclusion (EDI), and health advocacy.
Publications:
Teleneurology and Health Disparities. Semin Neurol. 2022 02; 42(1):60-66.Saadi A, Mendizabal A, Mejia NI. PMID: 35576930.
Adverse Childhood Experiences in Patient's with Neurological Disease. Neurology Clinical Practice. 2022; 12(1):60-67.Mendizabal A., Nathan CL, Khankhanian P, Anto M, Clyburn C, Acaba-Berrocal A, Breen L, Dahodwala N.
Feasibility and effectiveness appraisal of a neurology residency health equities curriculum. J Neurol Sci. 2021 Dec 15; 431:120040.Mendizabal A, Fan JH, Price RS, Hamilton RH. PMID: 34748973.
Strengthened through Diversity: A Blueprint for Organizational Change. Ann Neurol. 2021 10; 90(4):524-536.Willis A, Skolarus LE, Faigle R, Menon U, Redwine H, Brown AM, Felton E, Mendizabal A, Nath A, Jensen F, McArthur JC. PMID: 34236104; PMCID: PMC8478779.
Adverse Childhood Experiences and Frequent Headache by Adolescent Self-Report. Pediatr Neurol. 2021 08; 121:51-55.Anto M, Jaffee S, Tietjen G, Mendizabal A, Szperka C. PMID: 34147819.
Comorbid disease drives short-term hospitalization outcomes in patients with multiple sclerosis. Neurol Clin Pract. 2020 Jun; 10(3):255-264.Mendizabal A, Thibault DP, Crispo JA, Paley A, Willis AW. PMID: 32642327; PMCID: PMC7292556.
Hospitalizations of Children with Huntington's Disease in the United States. Mov Disord Clin Pract. 2017 Sep-Oct; 4(5):682-688.Mendizabal A, Ngo Vu AT, Thibault D, Gonzalez-Alegre P, Willis A. PMID: 30363491; PMCID: PMC6174499.
Patient safety events in hospital care of individuals with epilepsy. Epilepsia. 2016 08; 57(8):1301-9.Mendizabal A, Thibault DP, Willis AW. PMID: 27350435.
Hospital care for mental health and substance abuse in children with epilepsy. Epilepsy Behav. 2016 Apr; 57(Pt A):161-166.Thibault DP, Mendizabal A, Abend NS, Davis KA, Crispo J, Willis AW. PMID: 26963820; PMCID: PMC5347535.