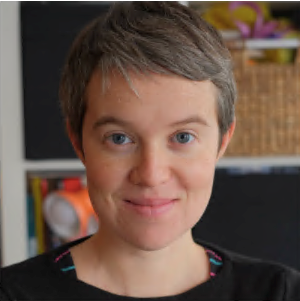 Anne Le Goff
Postdoctoral Fellow
alegoff@ucla.edu
PhD, Philosophy, Université de Picardie Jules Verne, France
Anne Le Goff is a philosopher working in bioethics and the social study of science.  In her postdoctoral scholar position at the UCLA Institute for Society and Genetics, she studies the field of epigenetics, and especially the implications of epigenetics on reproduction in an intergenerational and transgenerational manner.  How does epigenetics transform our view of heredity?  And how does it impact moral responsibilities and regulation?  Anne Le Goff conducts her interdisciplinary research in collaboration with sociologist and historian of science Hannah Landecker and epigeneticist Patrick Allard.  Their work is part of UCLA Epicenter, a network of researchers in the life and social sciences studying the implications of current research in epigenetics.
Anne Le Goff's interests are in the application of philosophy to bioethical issues raised by contemporary science and biotechnology, in order to understand how human life is illuminated and transformed by them.  She recently led a symposium and coauthoring project on the medical care of individuals with intersex.  It gathered prominent figures in the field in an effort at interdisciplinary dialogue committed to promoting improved standards of care.  Her previous work tackles the traditional problem of the nature-nurture divide and proposes to understand the human and animal experiences as specific forms of life that are both intrinsically biological and able to institute norms. This award-winning work is forthcoming as a book in French (Vrin, Paris).
Anne received her PhD in France and is an alumna of the prestigious Ecole Normale Supérieure in Paris.  She received her undergraduate and Masters degree from the University Paris 1 Sorbonne and Sciences Po Paris.
SELECTED PUBLICATIONS:
L'animal humain [The Human Animal] (2019, forthcoming). Paris: Vrin.
Living with Animals, Living as an Animal (2012). In Forsberg, N., Burley, M., Hamalainen, N. (Eds), Language, Ethics and Animal Life: Wittgenstein and Beyond. New York: Bloomsbury, 124-138.
L'éthique du care: la relation juste à l'animal sans voix [The Ethics of Care : Just Relationship with Voiceless Animals] (2012). In Laugier, S. (Ed.), L'éthique du care: Environnement et animaux, Payot, 33-64.
With C. Al-Saleh. Lire L'Esprit et le monde de J. McDowell [Reading John McDowell's Mind and World], with original responses by J. McDowell (2013). Paris: Vrin.